Chefs Roll: A night in Hill country November 2018
---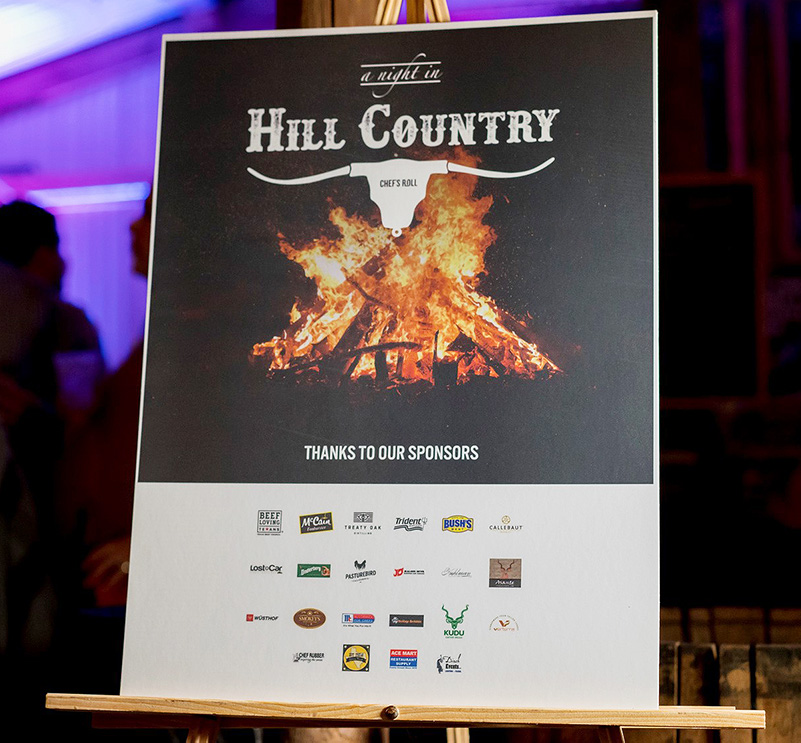 A Night in Hill Country
This was an event destined to go down in the history of Culinary Arts, with the aroma of best beef cuts being Barbequed, the scent of home brewed drinks by treaty Oaks in the air, and the sweet smoke of hand rolled cigars and live music, all this enjoyed by over 175 of Chef's Roll invited guests.
Chef Grant travelled to the heart of Texas to the Treaty Oaks Distillery in Dripping Springs, for the celebration of "The Last Magnificent Jeremiah Towers" the VIP Guest of the occasion. Chef Grant joined an all-star lineup of invited fellow Chefs' Markus Glocker, Olivier Desaintmartin, Chef Drew Deckman, and many more. Chef Grant prepared Trident Alaskan Pollock Tempura in the heart of beef country, a hard breaking curveball any texan would love.
Check out the youtube video of Jeremiah Tower listening to Chef Grant's featured choice. The event also included unique memorabilia such as Chef's Roll Custom made Texas-sized belt buckles, a cigar roller,  and a custom hat or all the Chefs' who made, "A Night in Hill Country"  a star event for Chef's Roll down in the lone star state.